Testimonials
Glenn Andrews from Glenwood Builders was the general contractor we hired to build our new home and second detached garage. He consulted on handicap accessibility issues prior to design of the finished house plans, which was very helpful. As General Contractor, Glenn estimated costs and materials, scheduled each stage of construction, ordered materials, supervised subcontractors, consulted with homeowners' architect on site and design issues, and generally kept everything moving smoothly. Prior to hiring Glenn, I checked him out with the local zoning and building inspectors office, as well as a number of his materials suppliers, who all said he was honest, a good craftsman, knowledgeable and paid his bills on time.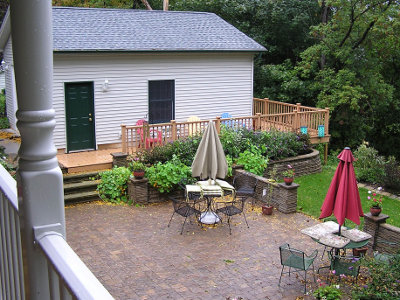 Wonderful experience! Glenn Andrews is smart, knowledgeable, organized, honest and a helluva nice guy. The house was situated on a very difficult wooded lot (with a cliff in the back yard) that posed a number of design and construction challenges. He was respectful of our desire to maintain as many of the trees on the lot as possible, and dealt cheerfully with the cliff in the back yard (down which a sewer line had to be laid). He was very easy to deal with, promptly returned phone calls and emails, provided regular updates on progress, maintained planned time line, really stayed on top of things. He perfectly translated our plans and ideas into a beautiful, energy efficient, fully handicapped accessible home, while maintaining the integrity of the park-like setting of the lot. He is an energy star builder as well—which is reflected in the extremely low utility bills at the new house (approx.. $40/month to heat 4000 square feet for December) and no need for air conditioning (maximum temperature of 70 degrees during a month-long 90 degree heat wave in August). We highly recommend Glenn. He does excellent work.
Judith
Lewiston, NY
---
After completing our new custom home, I would like to take this opportunity to say thank you. You could not have been more professional, accommodating and responsive to our needs. Your dedication and hard work shows in the finished product. With Glenwood Builders our dream home became a reality. I could not have asked for a more genuine and sincere person as you. You made home building a fantastic experience.
Francine
Lewiston, NY
---
Just wanted to drop you a note to express my thanks for all your hard work. I can't tell you how many compliments we get on our new home. Your attention to detail and pride in your work really shows. You have created a place that I am proud to call home. Thank You.
Gary 
Lewiston, NY 
---
 When my wife and I decided to build a home we struck gold with our decision to work with Glenn. All through the design and building process Glenn educated us so we could make informed decisions. Every day we had Glenn and his team working toward making our dream home a reality. His hands on approach during the build paid dividends. It took 24 weeks from the day we broke ground until the day our family moved in and Glenn was at our job site working, supervising,BUILDING pretty much every day. He always made us feel like our project was his top priority. Any and all concerns were addressed quickly.
We can't say enough good things about Glenwood Builders and we recommend them to everyone.
Mike & Melissa
Lewiston, ny
Tell us about your experience with Glenwood Builders!